LESLEY FROWICK
HALSTON: THE PROJECT OF A NEW AND CLOSER REVISITATION
Photographer - Biographer
Interview by João Mascarenhas Mateus
Photos by Lesley Frowick and Robert K. Morris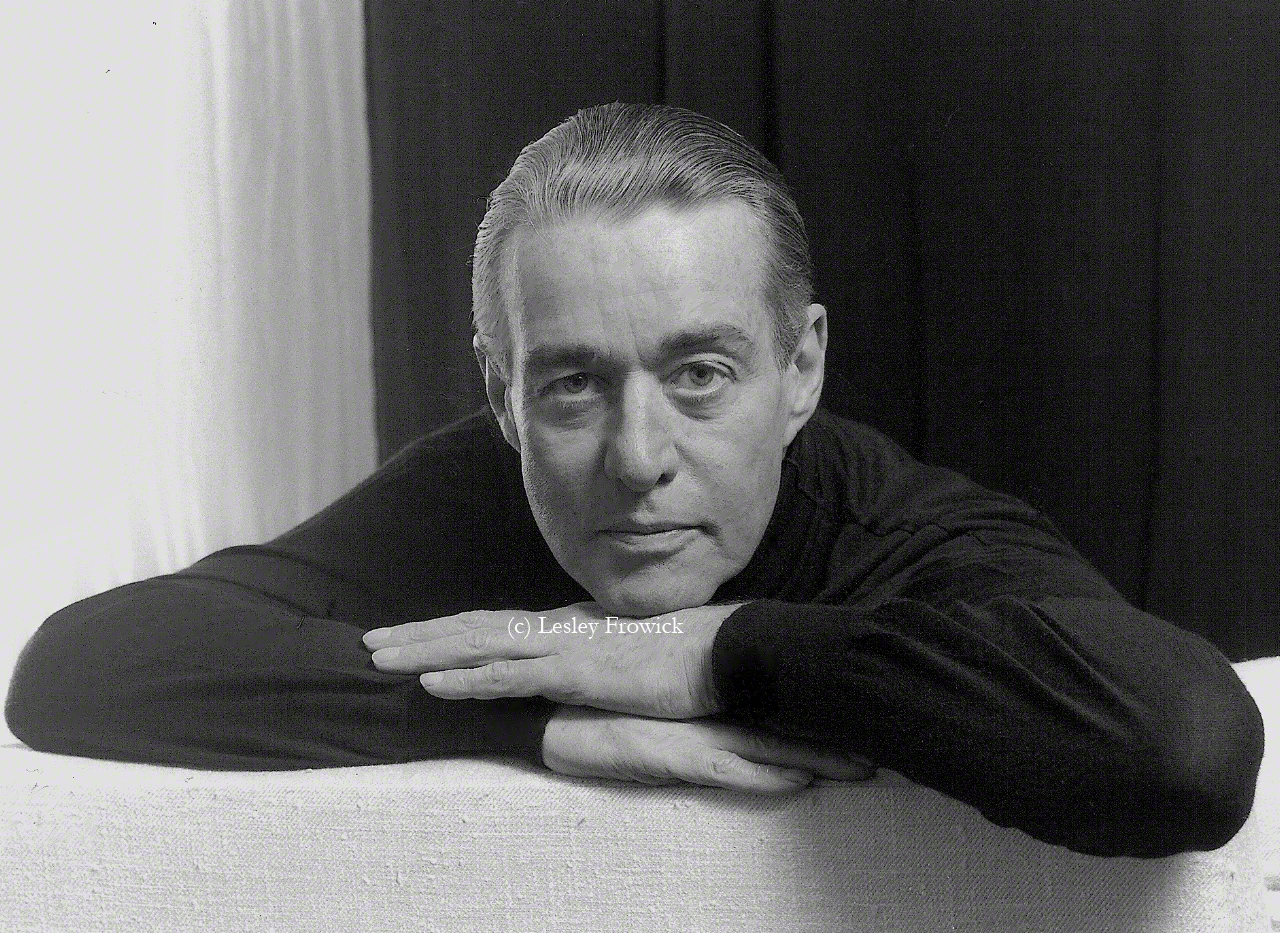 Roy Halston Frowick (1932-1990), portrait by Lesley Frowick ©.
Lesley grew up with her family in the American Diplomatic Service living abroad for most of her childhood. After a gap year, post university, in Rome, she moved stateside to work with her uncle Halston at the Olympic towers in Manhattan. Having stylized many Halston advertising shoots, Lesley became impassioned with photography. In 1984 she attended a year-long photography program at the International Center of Photography. Subsequently she worked in commercial studios for several years, still close to the Halston orbit, before moving to California in 1989 where she established her freelance photography business. She has been published in numerous magazines including House and Garden, Vanity Fair and aired on CBS. Her photographs have been exhibited in San Francisco, CA wine country and Puerto Rico. Currently she works at National Geographic in the Image Collection in Washington DC. She continues to travel and explore the world, shooting mostly nature and human interest photography with a whimsical twist. She was recently invited as one of the two guest artists to show her work at the Second DC Picture Show in March 2010, organized by the American Society of Picture Professionals.
Preparing a new book on Halston's life, Lesley Frowick is also planning a second phase to shoot a feature movie based on the new novel. She is Roy Halston Frowick's niece and shared many intimate years with the giant fashion icon who pinned the United States fashion on the international short list of the most sophisticated haute-couturiers. In collaboration with the Warhol Museum in Pittsburgh, Lesley is curating a traveling exhibit that will travel across the country stopping in three principal locations significant to Halston's life - launching in Pittsburgh where the Warhol Museum is situated, New York, Des Moines Iowa (his birth state) and de Young in SF where he spent his last days.
In New York, João Mascarenhas Mateus interviewed her in order to know more about this literary and cinematographic project and to learn some of the motivations behind a movie on the history of an American genius.
– When did you start thinking about this project about your uncle?
Thank you for giving me this opportunity to discuss the R Halston Frowick family book/movie project which will ultimately represent the only complete, authorized biography of my dear uncle Halston. Toward the very end of his life, Halston revealed that he would pass along to me his documents, sketches and historical information so that if I eventually wanted to write a book about him, I would have at hand all the pertinent information. At the time, 20 years ago this year, (he died March 26, 1990) I did not appreciate what a huge gift this was. He was after all a consummate record keeper. The inspiration for this book has been aging like a fine wine for 20 years. It seems the stars are currently lined up for our family to proceed full steam ahead with telling the comprehensive story of Halston's life, to set the record straight for American Fashion History and in the end for our family legacy.
– Could you tell us about your main motivations?
Over the years there have been several books written on Halston, TV documentaries and recently an independent documentary produced on Halston. Our family feels that none of the treatments have been accurate or comprehensive enough. Dare I say that a few have focused on less important aspects of his life instead of his invaluable contributions to American Fashion. We are concerned that this new generation of fashionistas are being misinformed. Our principal motivation is to tell the accurate story for American fashion history and as I mentioned before for our family legacy.
– In what phase of the all process are you?
We are in the "development" phase of the process. Although this story is one that has been evolving in our minds for many years, we are finally in the process of actively interviewing those from Halstons inner circle. I have introduced the idea to the key players and now am pursuing them for their heartfelt stories in their own words of their Halston experience in terms of how it shaped their lives and how they helped to shape his legacy.
- What is your opinion about biographical genre movies? Do you intend to include your project in that category?
Bibliographic genre movies are entertaining if done well. Important for the right combination of life elements to be properly outlined with the consultation of those who were closest to the individual. Initially our family was thinking of a documentary as we have all the pertinent information at our fingertips. However, as there have already been three documentaries produced to date, we have decided to pursue instead the first full feature film on his life. We feel this venue allows for more creativity, stylizing and a way to bring Halston back to life on the big screen. The story will follow closely his childhood growing up in the midwest to the end of his life in the loving embrace of his family in California.
- Do you plan to revisit all the life span of your uncle or just to focus only in a few periods of his trajectory?
Halston had a unique life. He was born into a modest middle class family in the midwest of America, considered the heartland of America where spirituality and family values are still held to the highest standard. He came into the world during a trying time for the United States and the industrialized world. Between world wars, in the middle of the Depression, I think his streamline upbringing had a huge influence on his core values and helped to form his aspirations for a better more exciting life. As a child he was surrounded by beauty and nature. Due to many historic aspects of life and society in America and his fast rise to fame and success, there are many rich sub stories of his life. The tragic final phase of his life we will merely touch on. Halston was an optimist so we would rather in his honor leave the audience with a happy hopeful message.
– Are you interested to show the familiar input and context of his upbringing?
In the public eye, there are still many unanswered questions.Our family will address the key elements of his upbringing that determined his destiny with fashion.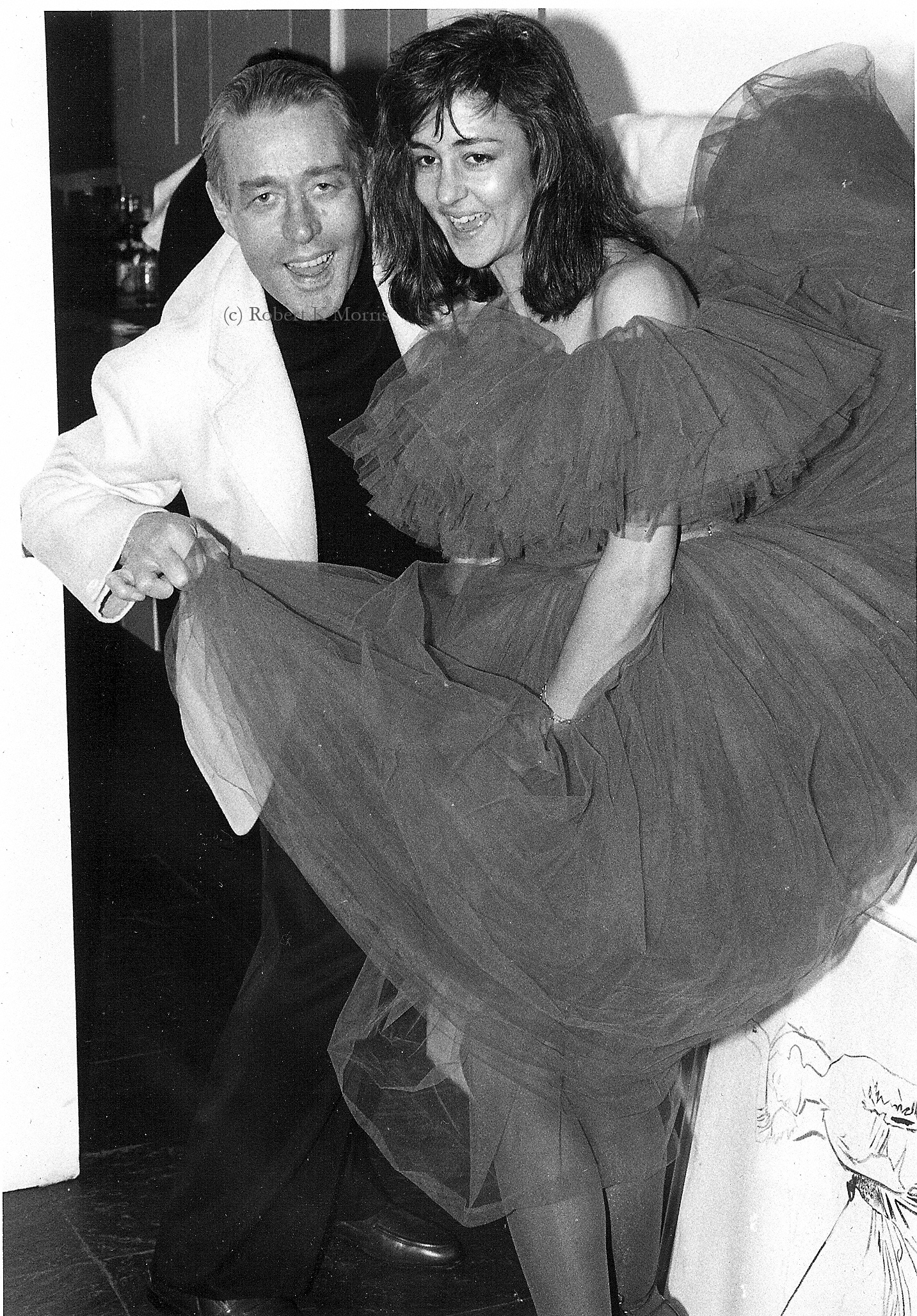 Halston and Lesley Frowick on her 30th birthday, photo by Robert K. Morris © .
– Exhibitions like "Simply Halston" set in 2009 by the Indianapolis Museum of Art followed by a tour in the main US Museums of Art directed the attention on his clothing creation? Do you think that people in general are aware of his many other creations (hats, perfumes…) responsible to make him one of the first total fashion creators?
Halston's sister Sue Watkins (my aunt) was instrumental in curating the Simply Halston exhibit held at the Indianapolis Museum of Art. Currently our family is in the process of curating, in conjunction with the literary effort, a comprehensive and perhaps somewhat personal exhibition on Halston fashions, hats, accessories (mostly designed by Elsa Peretti and Bobby Breslow), household accessories, fragrances and cosmetics, etc. We would like to include some of his own tools of the trade, personal notes and sketches of items that he designed for family members and super stars. We would hope to include photographs, illustrations and fashion footage that would cover his designs over the two decades that he designed. Also to be included will be a few gowns designed for his star studded entourage such as Liza Minelli and Elizabeth Taylor.
– Do you think that Halston's filmic image in the recent movie Ultrasuede, in search of Halston by Whitney Sudler-Smith (2010) or even in Fashion by Andy Warhol (1979) helped to produce some stereotypes about him?
I would imagine.
– In your opinion, was the real personality of "the premier fashion designer of all America" really represented on screen?
I cannot answer to that but would like to say that our presentation will be an insightful character development of our dear Halston. Our family is the only entity who sits on exclusive material and vintage family photographs. Our feature production will show the world who the real Halston was - a generous, talented, humorous, loving, challenging, ambitious, elegant gentleman and family man.
– The book and the movie will bring inedited information about your uncle, which was never treated by any of his biographies, movies or exhibitions?
Yes. Our family has volumes of never before seen material that we are now willing to share with the world. Aside from our own personal stories and remembrances, Halston had a large circle of people who loved him enormously. Remember that he was a very generous person. I am finding through my interviews that his inner circle has a lot of never before seen personal material as well. Because it is the Halston family taking this initiative, people are forthcoming with information, usually preceded by the exclamation "Finally the family is stepping forward".
– Is the memory of your uncle very much present within your family circle?
There are still times when I have tearful moments speaking of my uncle Halston, even though he passed away over 20 years ago. His memory and his spirit still live very strongly within me and our family. He was my mentor for 6 years toward the end of his life and always my hero from the time I could remember. After all we shared the same birth day April 23rd. He was so generous of mind and spirit that I know there are many people who still cherish his memory. Recently I was interviewing the model Pat Cleaveland, one of the Halstonettes, who shared with me tearful moment reminiscing of her loving times with Halston. I am finding that there is a plethora of such people out there, anxious to share their stories.
- Being always in an artistic field do you think about any other ways, beside the books, the movies or the exhibitions that could transmit Halston's legacy to future generations'? A new line of apparel bearing the designer's name was recently launched…
Once the only authorized comprehensive story of Halston has been produced, our family will be available to field questions and assist in maintaining accuracy to the Halston legacy. We trust that the book will serve as the "Bible" of sorts, that will follow Halston's rise to fame chronologically and accurately. Halston was so unique. He was a maverick, a visionary, a comprehensive "package" of intellect, talent, charisma and movie star good looks, uberly peppered with ambition. He was unpredictable while he remained simple and elegant. There will never be another Halston nor anyone who could ever pick up where he left off in the design world. In the end, the fashion world is not the same without him.
– Do you have a very defined timeline to set up the project or much depends still on additional information you can obtain during the research phase?
Our family is taking the necessary time in order to produce the very best possible story of our Halston to share with the world. Our highest aspiration is to "get it absolutely right". Halston was a perfectionist and so we are striving to follow that model. Our hope is to have an end product within the next two years but we do not wish to operate under any deadline, as this will simply compromise our story. As Halston would say "you have to get your ducks lined up".
ISSN 1988-8848